Newsletter - May/June, 2009 - Meet Lady Chaser
English Cocker Spaniel
Puppies
Born September 23, 2008
Tails and Dew claws done, All Shots, and Deworming,
House Breaking in Progress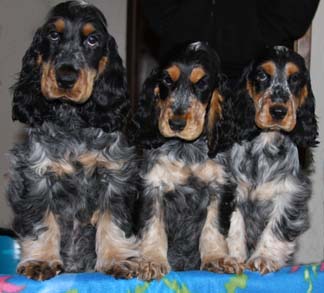 Champion Lines, Great Temperaments, Has Both Parents
1 boy and 2 girls are available
For Sale to Approved Homes
Call Paula at Legacy Farms - More Info: 831-636-9300
Bichon Frise Hands-On Grooming Workshop

by Master Groomer Paula Lafferty

On Saturday, September 27, 2008 at Legacy Farms
---
Please check out our Newsletters -----> Click Here
---
---
Announcing the birth of Paula's filly Hermosa on Saturday, April 19, 2008.
Her dam is an Andulusian mare, Herencia, as seen in the photo above and on the horses page.
Her sire is an imported revised Qualified Stallion named DominanteXXIX. He is currently shown by Willie Arts in Dressage.
---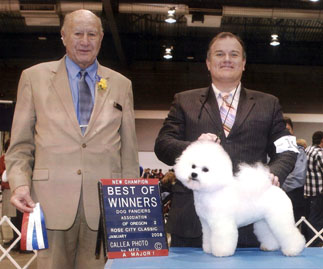 Lilo - New Champion - January, 2008
Lilo is pictured winning under Judge Mr. Ralph J. (Sonny) Ambrosio.
Thank-you to Paul and Tray for entrusting such a beautiful bitch with us.
---
Here is a picture of "Robbies" last win in Carson City under Judge Jenny Lyne.

November 28, 2007:

"Bravo" has his first Champion kid.

"Robbie", Jarde' Something To Be, finished last Wednesday in Long Beach, CA. Not bad for a 10 month old puppy!
---
PaRay's Dreamworks, "Lilo", was Winners Bitch and Best of Opposite on March 2nd and March 3, 2007. Watch for winning photos, soon!

Another win for Lilo in San Mateo. We are almost there!
Watch for our new Spring Fling Schooling Show!
Western and English Classes
December 29, 2006 in San Mateo, CA:

Ch. Old West Paws for Applause, "Bravo", won his championship with another three point major!! Thank you to Bravo's breeder co-owner Christine Dooley on giving us so much help and support. You are the greatest Chris!

In the middle of January, 2007, he sired a litter of one female and 3 males, all blue roan. The mother is a liver roan and is really gorgeous!
Karen Rohlf (Dressage Naturally) Clinic - November, 2006
Placements were as follows:
1st place Fairy pony
2nd Night Riding Pony
3rd Mardi Gras Zebra (Toi) Samantha Goytia
4th Vampire Bonita (Cindy Ramses)
5th Pumpkin Patch Kip (Mindy Hansen)
6th Dressage Arena Tyler (Mindy Hansen)
7th Spotted Andalusian Stallion wanna be Bruce (Heather Dejer)